SUV, Jeep, & Truck Suspension & Body Lifts
The most exciting thing about buying a new truck, jeep or offroad vehicle, is customizing it into your dream vehicle. For most, it begins with a vehicle lift. A lift kit lifts your entire truck, front and rear, anywhere from a small 1" lift, to a monster truck status lift. There are two different types of vehicle lifts: Body lifts and Suspension lifts.
Check Out Our Lift Package Special of the Month!!
2017 Ford F250/350:
-4″ Suspension Lift
-20×10 Fuel Wheels
-37x 12.5x 20 Toyo R/T Tires
-Parts, Labor, Alignment, & Lugnut kit included
Only $3999 +tax!
Truck & Jeep Body Lifts
A body lift uses spacers and blocks to lift the body higher onto the frame of the vehicle, without altering any of the suspension geometry. With a body lift, your ground clearance remains unchanged, but the extra height allows for larger wheels and tires. A body lift does not affect the steering, so your truck or jeep will retain most of its original driving and handling characteristics, although the stability can be impacted, due to the increased ride height. Body lifts tend to be more affordable though, than a suspension lift.
Truck & Jeep Suspension Lifts
While the cost may be higher, the results you will get from a suspension lift are almost undoubtedly worth the extra cost. Suspension lifts involve upgrading everything from the shocks/struts to the control arms, trailing arms and sometimes even the driveshafts and steering components. Replacing these components allows for more suspension articulation, more ground clearance, and an all-around more capable off-road vehicle. Although your truck will now have a higher center of gravity and
altered steering and suspension, which will drastically affect steering and handling of your truck or jeep.
Truck Leveling Kits
Leveling kits are designed to level the front of your truck with the rear, which allows for slightly larger tires and eliminates the "nose-down" look common in most trucks. A leveling kit is one of the most popular first purchases made by brand new truck owners. A leveling kit involves hardware to slightly raise the front of the vehicle so it matches the stock height in the back. A leveling kit is usually designed to provide a maximum lift of about 2 inches in the front. If a stock-style stance is desired, front-end leveling kits can be paired with spacer blocks on the rear leaf springs to provide a slight lift at all four corners. Leveling kits require only a small modification to the truck, typically requiring spring spacers or torsion keys.
What is the Difference Between a Leveling Kit and a Lift Kit?
A leveling kit is a low cost way to raise your truck and allow for larger tires, but limits the amount of height you can add to your truck. Although many new truck owners prefer a leveling kit over a lift kit because of the cost and the fact that it only requires a small modification to the truck. Lift kits, on the other hand, allow for up to 10″ added in height to the truck, or more in some cases. Although the cost is higher, and it requires more modification, if you use a quality product and the installation is done by an experienced,  knowledgeable technician, you shouldn't have to worry about negative impact to your truck, jeep, or SUV. At APE Offroad, only ASE certified mechanics perform lift kit or leveling kit installations. We also offer a warranty so that you can be sure that your vehicle is in good hands.
Super-Size It
Installing both a body lift and a suspension lift together will get your truck or jeep even higher, and allow for bigger tires than would be possible with a suspension lift alone. No matter which way you go, your truck will be looking meaner and ready to hit the trails, and your friends and neighbors will definitely envy your ride.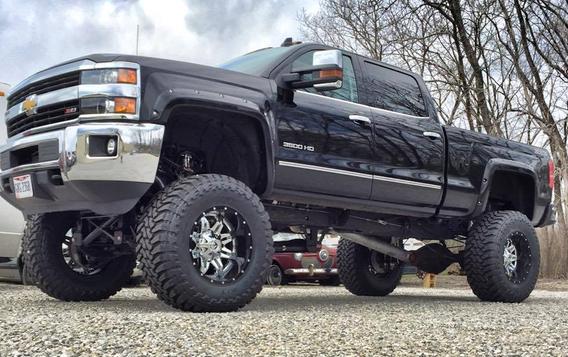 Are you not really an offroad enthusiast and wanting a truck lift or jeep lift just for the look? We can help you with that too. Ape Offroad partners with many of the top brands in the industry in order to offer quality parts installed at great rates.
---
Truck Lift Kit & Wheel Packages
 We are now offering some of our most popular truck lift parts and wheel options together at a packaged discount price! Find your truck lift package below, or if your truck is not listed, give us a call and we can put together a custom package for you!
(214)430-8515
---
Ford F 150 2009-20017 2WD/4WD
6″ Suspension Lift
ION 141 Black and Milled Wheels
20 x 9
35 x 12.5 x 20 Firestone Destination M/T Tires
Only $3549 (+tax)!

Price Includes: Parts, Labor, Installation, Alignment, & Lugnut Kit
Dodge Ram 2500 (or 1500) 4WD
4″- 6″ Suspension Lift
Mayhem Warrior Black and Milled Wheels
20 x 9
35 x 12.5 x 20 Toyo Open Country A/T II Tires
Only $3549 (+tax)!

Price Includes: Parts, Labor, Installation, Alignment, & Lugnut Kit
---
Suspension Lift Package – Limited Time Offer!!
Any make or model truck! Lift, wheel & tire brands will vary dependint on the type of vehicle and availability of parts. Some limits apply.
---
Truck & Jeep Lift Warranty!
Just Got a New Truck? Protect Your Investment!
Ape Off Road in Lewisville is now proudly offering the unprecedented truck lift warranty, Lift
Shield from Pro Comp. Choose Pro Comp for your truck lift or jeep lift and get the ultimate protection for your investment. Pro Comp has just announced Lift Shield, the new 5 year / 60,000 mile Powertrain Warranty available on Pro Comp's most popular late model suspension systems. This new warranty is the first of it's kind in the off road industry and is included for Free on qualifying systems.
This unprecedented new warranty goes beyond the usual product warranty and actually protects the vehicle it is installed on. Customers can choose Pro Comp suspension systems with total confidence because Lift Shield covers their vehicles powertrain for the duration of the factory 5 year/60,000 mile warranty. If the vehicle has a powertrain issue in the first 5 years or 60,000 miles of service (whichever comes first), Lift Shield covers the cost of parts and repairs in the event that the dealer denies warranty coverage. Best of all, it is included for FREE. There is no extra charge for the added warranty protection. Certain terms and conditions apply.
Get your Truck Lifted with Confidence!
---
Recent Projects: Truck Lifts – Jeep Lifts – Leveling Kits